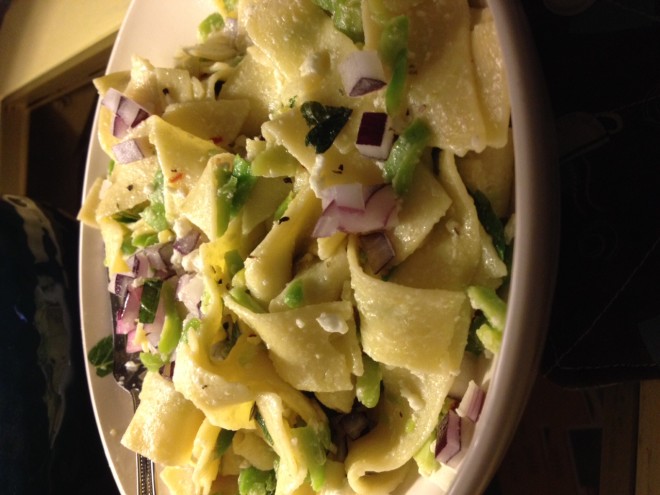 This was so fresh! We had some favas — a new cooking experience for me — and other recipes online kept mentioning the mint pairing. I thought it would be great in pasta form, with feta and lemon, and this recipe was born.
Fresh Fava and Feta Pasta

Print recipe
Ingredients
8oz egg noodles ((1 package of Trader Joe's egg noodles))
1 cup shelled fava beans
1/3 packet feta
1/4 red onion, finely chopped
1/4 cup fresh mint
olive oil
red pepper flakes
salt
1/2 lemon
Directions
Step 1
If you have fresh favas in their pods, shell them. In a pot of boiling, salted water, add the shelled favas and cook for 2 minutes. Remove them from the heat. Remove the waxy outer layer (which should have been loosened during the flash boiling process).
Step 2
Cook the pasta according to the package's instructions.
Step 3
Coarsely chop the onion, feta, mint, and favas.
Step 4
After draining the pasta, put in a serving bowl and drizzle with olive oil. Add the onion, feta, mint, and favas and toss. Season with salt and red pepper flakes. Squeeze fresh lemon juice over top.